In Prayerful Remembrance of Fr. Americo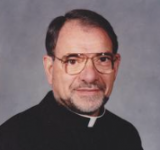 Reverend Americo Salvi, C.R.M.
(April 8, 1931 – November 21, 2015)
---
December 3, 2015 – SALVI, The Reverend Americo, C.R.M. 84, an Adorno Father at St. Joseph's R.C. Church in Lodi passed away into the loving arms of Jesus on Saturday, November 21, 2015.
Born in Italy on April 8, 1931 to the late Antonio and Virginia Salvi. Father Americo was a graduate of the Gregorian University in Rome, Italy where he studied two years of Philosophy and four years of Theology in preparation of the Priesthood.
He was ordained on April 3, 1954. Father Americo was a former Chaplain for St. Michael's Knights of Columbus Council in Lodi, a member of Monsignor Stafford Fourth Degree Assembly in West New York and was also a member of the Knights of Holy Sepulchre of Jerusalem in New York since 2008.
He spent most of his priestly life in Ramsey and Lodi, New Jersey where he was instrumental in building the St. Michael's House of formation and the development of the property.
He served the people of Lodi as a priest for a number of years as Parochial Vicar, Youth Minister and as Director of Religious Education.
He will be remembered as a faithful religious priest whose wisdom and knowledge have imparted to the younger clerics whom he met. His favorite quote was; "'An Old soldier never dies, he just fades away…' and do does an old priest."
A Concelebrated Mass of Christian Burial was said at St. Joseph's R.C. Church on Wednesday, December 2nd at 10 AM. Interment followed at Maryrest Cemetery, Mahwah. Requiescat in Pace!