You are called to be the bridge God called us to be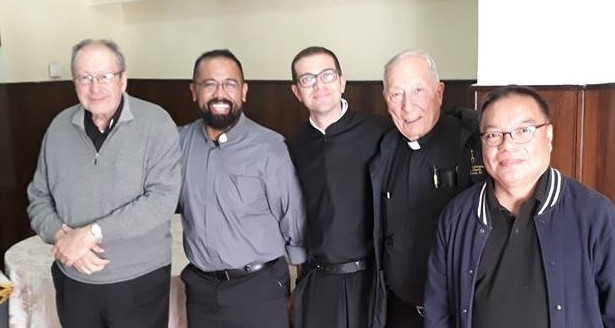 Admin
My dear Brother Francesco, As a newly elected Father General, I feel so blessed to be a part of your ordination here in the hometown of Saint Francis Caracciolo. This is a day I am always going to joyfully remember. I again thank Archbishop Bruno Forte for his kindness and friendship towards the Padri Caracciolini. We are joyful to be present in this Diocese of Chieti.
I also thank the parents and family of Father Francesco…..you too are part of our religious family. God will bless you for the gift you made of your son to the Church and to the family of the Clerics Regular Minor.
Francesco, Your priesthood is born at a time of great challenge and upheaval in the Church. Your priesthood is born with news of scandal by some and confusion among some of the faithful. I must emphasize, however, that this is the best time to be born as a priest. You are called to be the bridge God called us to be. A bridge means so many things, but one may ask, what is the function of a bridge? It is obviously meant to connect point A to point B, or to connect from one reality to the other. Yes we are all in the crossroads of this life that we are called to the priesthood to be a bridge of God between this great chasm of the world.
This Bridge may be understood in three ways:
We are called to be like a Prophet: to be a passage way of God's word to the world. Bring God's message and prophesy for the people about the kingdom of God, not only by your words but much more by your works as you strive to live our charism.
By a Bridge of Joy: the world is filled with sadness, and Angry and bitter people. The world has many who live as if God does not exist. This gap has separated us from one another. We need to witness this joy, radiate the light of joy, so that darkness of hatred will be pushed away. Show your youthful smile that comes from your heart. Be Inspired by your community life. A religious priest who does not smile shows the kind of community you have. It will reflect the quality of your community life. If your face is sad as if coming from a funeral, it means your own community is sad and lacking the joy of the Gospel. May I see that smile from you and your religious brothers? Good –andiamo Avanti!
Be a Bridge by the works you do: Look at the works of Saint Francis Caracciolo and his example to us. Bread received, bread shared! St Francis Caracciolo, as well as our other founders, were present in the life the suffering Church. Their works were very much identified with the works of mercy. In your work, you must communicate vividly your closeness to your Master who died for the sake of Others.
Be a Bridge that will be an ear that listens a bridge is always open to dialogue. You mentioned to me when i spoke to you that you wished we will be more open to dialogue. Yes, the first gap we must close is the door shut because of lack of communication. Be open, be present, be obedient not only to the concerns and poverty of the world, but much more to the will of God that is revealed to us through your constant communication to him in prayer. Open your life to Jesus our Good Master and you will become that great bridge God called you to be. May Saint Francis Caracciolo be the example to you of a selfless priestly life! AMRG!
Again, Congratulations and my gratitude to your family who supported you, your friends who prayed for you, your formators who guided you and now your community and family that will journey with you towards your continued growth. Amen
Fr. Ted Kalaw CRM
Foto: Fr. JohnPaul CRM, Fr. Ted Kalaw CRM (Superior General), Fr, Francesco CRM (new priest), Fr. Nicholas CRM, Fr. Jun CRM