Trovare Cristo nella vita quotidiana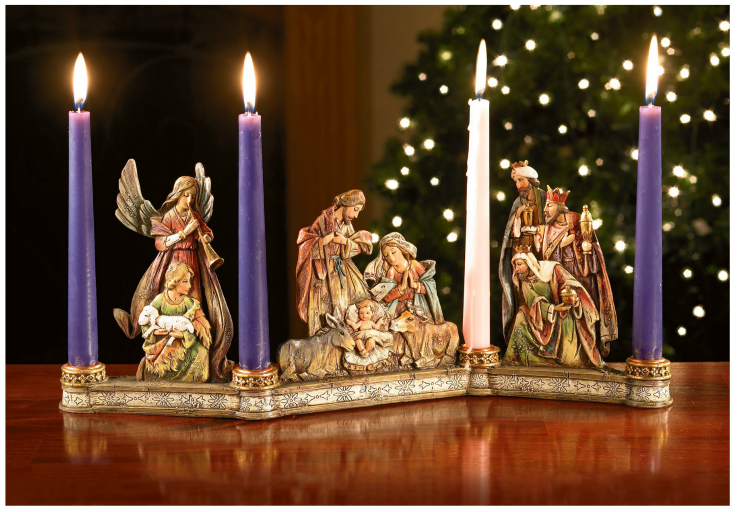 Admin
In un recente messaggio dell'Angelus, Papa Francesco ha detto: "Oggi inizia l'Avvento, il tempo liturgico che ci prepara per Natale, invitandoci a guardare in alto e aprire i nostri cuori per accogliere Gesù. All'Avvento, non viviamo solo l'attesa di Natale; siamo anche invitati a risvegliare l'attesa del glorioso ritorno di Cristo - il suo ritorno ai tempi della fine - preparando l'ultimo incontro con lui con scelte coerenti e coraggiose."
Tenendo presente questi sentimenti, miei cari fratelli, permettetemi di salutarvi con tutto il cuore per un santo Avvento e augurarvi un buon Natale in anticipo! Nel frattempo, riflettiamo sul grande amore di Cristo per noi e sul modo in cui Egli ha messo la nostra carne per essere come noi in tutte le cose eccetto il peccato. Si svuotò, si fece carne, ci incontrò nella nostra vita per manifestare la sua gloria. Tuttavia, ci è apparso come un bambino così da poterlo avvicinare senza esitazione e senza paura. Ci invita anche a essere come lui, a imitare la sua innocenza d'infanzia in modo da poter vivere il più grande splendore della sua vittoria, della sua umiltà e del suo amore. Dobbiamo trovarlo non solo nel nostro successo, ma molto più nella nostra debolezza.
Vi invito a trovare Cristo nella vostra vita quotidiana. Possiamo vederlo solo quando ci abbassiamo per essere come Lui, svuotandoci con orgoglio ed egoismo. Cerchiamo di essere aperti e onorarlo glorificandolo al nostro servizio portando il suo regno. Che la sua volontà, e non la nostra, sia sempre fatta. Che la sua presenza sia sempre rivelata da un servizio divino eseguito per amore.
I nostri cari fondatori hanno avuto un grande amore per l'Incarnazione. Avevano anche un grande desiderio che Cristo si manifestasse nelle loro vite quotidiane. La sua presenza nell'Eucaristia fu per loro un grande segno di umiltà e amore. Grazie all'umiltà, l'amore è diventato vittorioso. Restiamo umili, lasciaci vuoti e doniamo a Dio ciò che ci chiede. Non chiede che diamo solo il minimo o ciò che consideriamo "sufficiente." Chiede tutto per imitare suo Figlio, Gesù. Il nostro progetto principale è quello di dare ogni giorno i nostri piccoli pezzi a Dio fino a quando non ci sottomettiamo totalmente a lui per tutta la vita. Dio sia glorificato ora e per sempre.
Vi chiedo di accogliere, miei cari fratelli, l'espressione del mio caloroso saluto di pace e amore. Unione di preghiere. AMRG.
In English:
During a recent Angelus Message, Pope Francis stated "Today begins Advent, the liturgical season that prepares us for Christmas, inviting us to look up and open our hearts to welcome Jesus. In Advent we do not only live the wait for Christmas; we are also invited to awaken the expectation of the glorious return of Christ - when at the end of time he will return -, preparing for the final meeting with him with coherent and courageous choices."
Keeping these sentiments in mind, dear brothers, permit me to greet you with heartfelt wishes for a Holy Advent Season and also greetings for an advanced Merry Christmas! During this time, let us reflect upon the great love of Christ for us and how he took on our flesh so as to be like us in all things but sin. He emptied himself, he became flesh, he encountered us in our life, to manifest his glory. However, he appeared to us as a baby so we might approach him without hesitation and without fear. He too invites us to be like him, so as to imitate his child-like innocence so we may experience the greatest splendor of his victory, humility and love. We need to find him not only in our success, but much more in our weakness.
I invite you to find Christ in your life on a daily basis. We can only see him when we lower ourselves to be like him, emptying ourselves of pride and empty show. Let us be open and give him due honor by glorifying him in our service by making his kingdom come. May his will, and not ours, be done at all times. May his presence be made known through godly service done out of love.
Our dear Founders had a great love for the Incarnation. They also possessed a great desire that Christ would be made manifest in their daily lives. His presence in the Eucharist was for them a great sign of humility and love. Through humility, love became victorious. Let us remain humble, let us empty ourselves and give to God what he requires of us. He does not ask that we give just the minimal or what we deem as "sufficient", rather he asks for everything in imitation of his Son, Jesus. Our main project is to give to God every day the little pieces of ourselves until we totally submit our entire life to him. May God be glorified now and forever.

I embrace you with these warm greetings of peace and love and please pray for me.
In Francese:
Dans un message récent de l'Angélus, le Pape François a déclaré: "Aujourd'hui commence l'Avent, le temps liturgique qui nous prépare pour Noël, nous invitant à lever les yeux et à ouvrir notre cœur pour accueillir Jésus. À l'Avent, nous ne vivons pas seulement l'attente de Noël; nous sommes également invités à éveiller l'attente du retour glorieux du Christ - son retour à la fin des temps - en préparant la dernière réunion avec lui avec des choix cohérents et courageux."
Gardant ces sentiments à l'esprit, mes chers frères, permettez-moi de vous saluer de tout cœur pour un saint Avent et de vous souhaiter d'avance un joyeux Noël! Pendant ce temps, réfléchissons au grand amour de Christ pour nous et à la manière dont il a revêtu notre chair pour nous ressembler en toutes choses sauf le péché. Il s'est vidé, il est devenu chair, il nous a rencontrés dans notre vie pour manifester sa gloire. Cependant, il nous est apparu comme un bébé afin que nous puissions l'approcher sans hésitation et sans crainte. Lui aussi nous invite à être comme lui, afin d'imiter son innocence d'enfant pour que nous puissions vivre la plus grande splendeur de sa victoire, de son humilité et de son amour. Nous devons le trouver non seulement dans notre succès, mais beaucoup plus dans notre faiblesse.
Je vous invite à trouver le Christ dans votre vie quotidienne. Nous ne pouvons le voir que lorsque nous nous abaissons pour être comme lui, nous vidant d'orgueil et d'égoïsme. Soyons ouverts et honorons-le en le glorifiant à notre service en faisant venir son royaume. Que sa volonté, et pas la nôtre, se fasse toujours. Que sa présence se fasse connaître par un service divin accompli par amour.
Nos chers fondateurs avaient un grand amour pour l'Incarnation. Ils avaient aussi un grand désir que le Christ soit manifesté dans leur vie quotidienne. Sa présence dans l'Eucharistie a été pour eux un grand signe d'humilité et d'amour. Grâce à l'humilité, l'amour est devenu victorieux. Restons humbles, vidons-nous et donnons à Dieu ce qu'il demande de nous. Il ne demande pas que nous donnions seulement le minimum ou ce que nous considérons comme "suffisant." Il demande tout pour imiter son Fils, Jésus. Notre projet principal est de donner chaque jour à Dieu nos petits morceaux jusqu'à ce que nous lui soumettions totalement toute notre vie. Que Dieu soit glorifié maintenant et pour toujours.
Je vous prie de recevoir, mes chers frères, l'expression de mes salutations chaleureuses de paix et d'amour. Union des prières. AMRG.
I would like to greet the following on their birthdays and anniversaries:
Priests Celebrating their Priestly Ordination in December
P. Anastacio Villaluz- December 8, 2001
P. Baiju Kunnakkattu- December 10, 2009
P. Franco Palmieri- December 21, 1962
P. German Coquilla Dember 7, 2002
P. Gianpaolo Gasparini December 23, 1974
P. Jacques Nzitonda- December 7, 2000
P. Jason Caganap- December 7, 2002
P. Jomon Manalel- December 29, 2012
P. Laurianus Banyuzukwabo- December 8, 2016
P. Mario Aceto- December 7, 1979
P. Nestor Abog Jr.- December 8, 2001
P. Patrick Iraguha- December 8, 2016
P. Ryan Dela Pena- December 4, 2015
P. Teodoro Kalaw- December 8, 2005
Celebrating Solemn Profession in December
P. Giovanie Nunez- December 10, 2010
P. Giulio Capetola- December 8, 1967
P. Godefrois Mulyandanda- December 4, 2016
P. Liam Reza Panganiban- December 2, 2006
P. Mario Salon- December 8, 1956
P. Noly Berjuega- December 10, 2010
My Sincerest Wishes to all of you a Blessed Season of Advent and a wonderful celebration of Christmas with our different communities…
P. Ted Kalaw, CRM