A Message from the Superior of the Delegation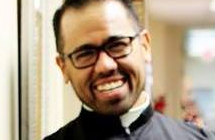 Dear Friends of the Adorno Fathers,
Peace to you and to all your Families!
On our General Dieta in Rome in July last year, we have approved the Delegation status of the different continent of the Order. Now we have the Delegations from Germany and India, United States and Philippines, Africa and Italy.
This will help in an over all administration and care of the different region where our Order is present in different region of the world. The order is even more strongly united with the Generalate in Rome.
On that note, and looking to a hopeful future, I am very happy to inform you of the many changes in our United States – Philippine Delegation for the next three years. One of the many works of the Delegation is to respond to the individual needs of the religious and the communities they serve. New pastors have been assigned to many of our parishes. St. Joseph Church in Lodi, New Jersey has me as their new pastor, Jesus our Risen Savior Spartanburg Fr. Edgardo Enverga and our newly acquired parish, which is also in the Diocese of Charleston South Carolina, St. Anne and St. Jude in Sumter has Fr. Frank Palmieri.
Fr. Melvin, Fr. Michael and Fr. Liam have been transferred to the Philippines. Fr. Melvin is now in charge of our Philosophy students in Vinzons, Camarines Norte. Fr. Michael is also in Vinzons and has been appointed as the new novice Master there. Fr. Liam will soon assume his new responsibility sometime in the early months of 2016 to be the Superior of our House of Theology in Lipa, Batangas. I was re-elected and appointed to continue for a second term of my ministry as Superior to our Delegation. I am humbled and grateful for this opportunity of ministry and service. Please see here for the full list of US-Philippine Delegation new appointments.
We rely on your continued support in our life as religious priests and in our ministries. Today, there are so many challenges in our world in living this life. Nevertheless, we hold steadfast to the words of Jesus to not be afraid, to leave everything behind and follow him. We have left everything behind and strive everyday to live our community life. I urge you to give us your undying support through your prayers, encouragement, understanding and whatever assistance you may extend to us as we further God's work.
We are in the process of transforming our House of Ramsey into a retirement home for our aging Adorno Fathers. As of now, our house in Ramsey is not so equipped for the needs of our retirees. It is an old but strong fortress. We need to upgrade it for the present and future use of the Order. It will cost us a great deal of financial drain since most of our finances are allotted in our formation work here and abroad.
If you have the abilities and means of helping, I am knocking at the door of your heart so that this project will become a reality. Our retired brothers and brothers who will soon retire have served so many of you and your family and friends who have passed away. Please help us to give them the dignity they deserve so that they may have comfortable accommodations as they free themselves from the many responsibilities they had before. They are going to be our constant guides to where we are going as Adorno Fathers. They're past experiences and stories can help us understand and appreciate our present time and give us the opportunity to visualize the world to come. We are connected to the stories of the past, which are our history. We will strive to live our present life situations with the understanding of how each day points to hope for tomorrow with the expectation of a better world.
We sincerely hope that this message and through this website will bring some inspiration, information and good news about our Delegation of the Adorno Fathers in the United States and the Philippines.
We, the Adorno Fathers, promise to continue to pray for you, serve you in as many ways as possible in the spirit of charity.
Fr. Ted Kalaw, CRM
Superior of the US-Philippine Delegation