From the Novice Master in Philippines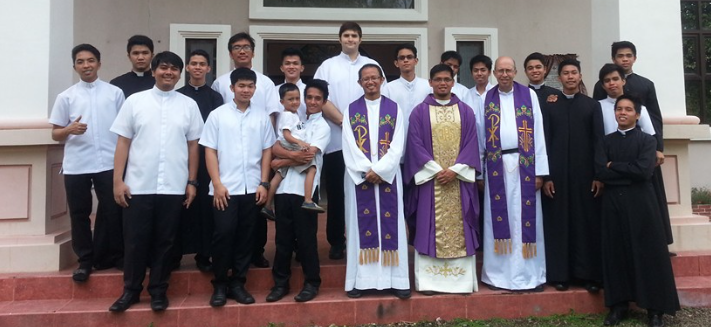 I cannot believe that it is already several months since I began my new assignment at the Adorno Fathers House of Formation in Vinzons, Camarines Norte, in the Philippines. I am part of a formation team that includes Rev. Melvin Avilla, CRM, the local superior, and Rev. Arman Hagos, CRM. I am pleased to write that things with we me are just fine and I am very happy with the work I am doing. Here at our House of Formation, I am specifically involved with the task of being a Novice Master to our Novices and this entails giving classes to them in the history of the Adorno Fathers, on the spirituality of consecrated life, the Eucharist, spiritual growth, etc. As you can well imagine, I am keeping myself quite busy with these endeavors. I also help a little with our aspirants and postulants when needed. Preparing young men for the priesthood and religious life is truly a godly work that will benefit us all. I can see that God has truly blessed us with so many good things and I give Him Praise.
My initial experience here has been challenging. Coming from Saint Joseph Parish in Lodi, New Jersey, there are so many things that I have taken for granted. For example, fast internet, stable electricity, hot water, many basic conveniences etc. These little discomforts are nothing compared to what I have received thus far. The faith of the people, in the midst of poverty, is truly inspirational Many have nothing to offer except hearts that are open to and in love with God. Ultimately, this is the richest treasure of all. I feel that I am being renewed in so many ways. Of course, one of the great perks here is that there is NO snow and ice! The climate is tropical all year around.
When Pope Francis recently visited the Philippines, he had a meeting with clergy, religious and seminarians at the Cathedral in Manila. He stated that "All pastoral ministry is born of love. All consecrated life is a sign of Christ's reconciling love. Like Saint Therese, in the variety of our vocations, each of us is called, in some way, to be love in the heart of the Church". My hope is that the work of the Adorno Fathers and Brothers here in the Philippines, and worldwide, will always be motivated by this love of God, always for the Greater Glory in the Risen Christ!
Fr. Michael Marotta, CRM